Under investigation were 20 girls at the age of 12 to 16 years with dis­func­tional hemorrhaging.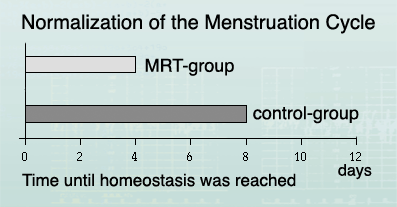 To reestablish homeostasis in the organism they re­ceived a complex medical drug therapy: ascorbic acid 1g per day, dizinon 0,75 – 1,5 mg per day, cal­cium­glu­conat 1,5 – 2 mg per day.
Medical Resonance Therapy Music® Group

This group counted 12 girls who – in addition to their drug therapy – listened once or twice per day to the Medical Resonance Therapy Music® for 40-60 minutes.

9 girls regained ho­meo­sta­sis already at the fourth day of treat­ment, one girl reached it after taking synthetic progestine (preparation "phemodem"). By ap­ply­ing Medical Reso­nance Therapy Music® the girls of this group could leave the hospital on average two days earlier than the girls in the control group.

In 9 girls normalization oc­curred double as quick as in the control group and they could go home already after 5 days.
Control Group
This group counted 8 girls, who were ex­clu­sively treated with medical drugs.
Here the girls reached homeostasis at the eighth day, but one of them regained it only partially. 4 of the girls regained it after taking synthetic progestines.
Investigators:



Dr. med. A. Kusnezowa
Prof. Dr. med. W. Sidorenko
Dr. med. L. Guljaewa
Dr. med. A. Borssukow
Dr. med. A. Sawjalowa
Dr. med. L. Mozhejko